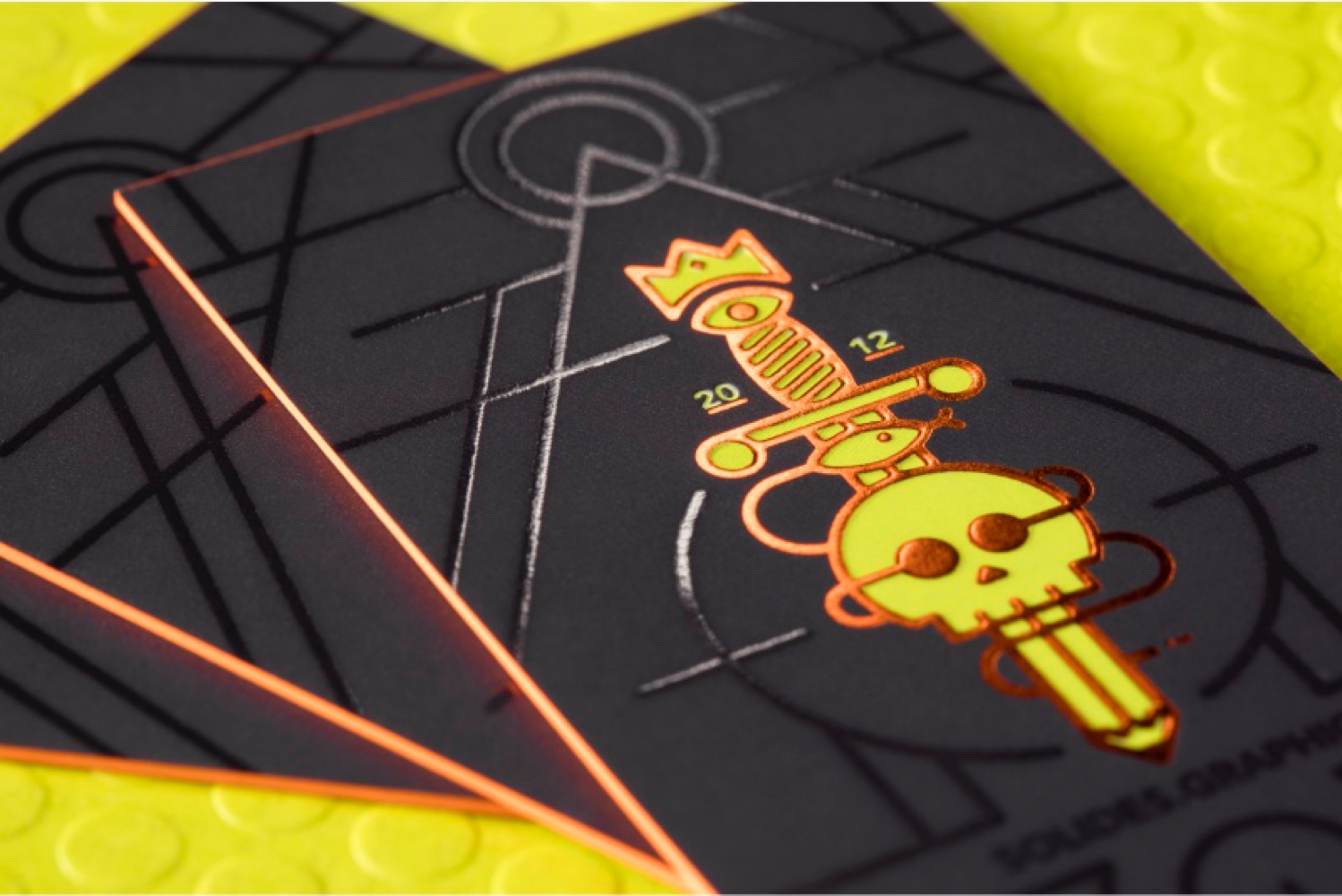 First impressions are the ones that last. That's not just some saying your parents use or a little thing we tell ourselves to justify buying new shoes… it's backed by science.
Studies suggest that first impressions are made in less than a second. In that time, people form some pretty striking assumptions about your trustworthiness, influence, and much more.
In many settings, a business card is the first introduction to your branding. By the time your friend from the networking event looks up your website, the business card you handed them already locked in their impression. Your business card is integral to your overall appeal, no less important than your website or storefront.
All this is well and good, but how can designers get the most out of this phenomena? By making striking, standout cards as part of the overall experience of meeting someone.
How does that work? 

Imagining the ideal business card
Close your eyes and imagine a business card. Chances are you imagined a pretty standard business card — flat typeface, white or cream color, monogram logo. A real Patrick Bateman style card.
Now, visualize the last time you were really wowed by a business card. Did that card look like the one you imagined before?
The reality is that there's a substantial gap between the business cards we imagine and the ones that make an impression. Maybe that memorable card had especially vibrant graphics or subtle texturing, maybe it had a die cut logo or raised typeface.
That card likely didn't come from an online template or a big chain store print shop. The card you remember was probably made with special care. The cards we remember are part of an overall experience (or actually create that experience themselves).
So, here's our ultimate guide to designing a custom card that stands out.
Let's get ultimate.
Putting the Fun in Fundamentals
Creating an engaging business card is about knowing where and when you can break boundaries. One of the founding principles of design is that you should understand the rules before you throw them out the window.
That said, there are certain rules about business card design that aren't meant to be bent or broken. You will want to use a font that's legible on the card, appropriately position all design and text… things like that. Here are some key commandments:
Color — Design in CMYK unless you are exclusively working with spot colors
Resolution — Ensure the best image quality by working with Vector files. However, 300dpi files are acceptable as well.
Safety Line — No matter the size or shape of your card, keep all key copy at least 1.5mm or 1/16in away from the trim edge
Bleed — For designs that run to the edge of a card, extend the design an extra 1/16in past the trim edges to account for the cutting process
Font size will depend on a number of factors: typeface, color choices, paper finish and texture, et cetera. Always make sure that your important information — name, contact info, company name — is clear and legible on the screen before you go to print.
Ask a friend or colleague for a second opinion, you may be missing something big.
Misunderstanding the capabilities of your chosen paper and ink media can lead to big mistakes that even accomplished graphic designers make. When converted from digital to print, serifs on letters in small font sizes can obscure, connect, or blend letters together. Alternately, minimalist sans-serif fonts are popular for their lightweight look, but they may all but disappear when printed too small on a dark background. When in doubt, go a little bigger to ensure legibility.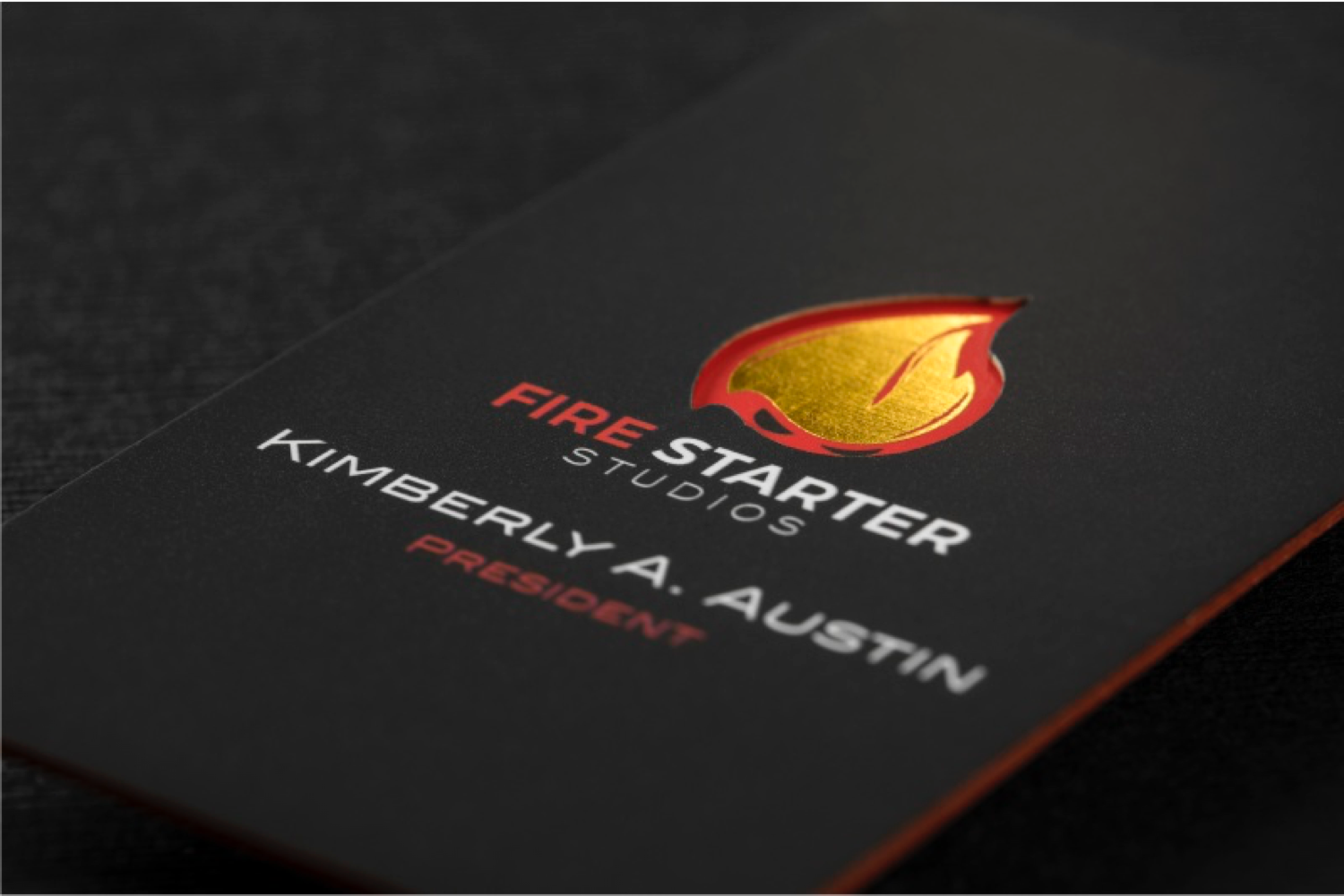 The Building Blocks of Style
Each element that makes up a business card design can be used to create innovative effects. Many designers get caught up on what's on their laptop screen, forgetting the creative license they can take with the cards themselves. Great card design uses the whole card to create impact.
In order to make a truly unique custom card, first you should know a little something about what cards are made from. You have a number of custom options available, each of which will influence the total look and feel of your card. Remember that business cards are about more than just visuals — texture is as big a part of the Silkcards Experience as anything else.